Professional Leadership Program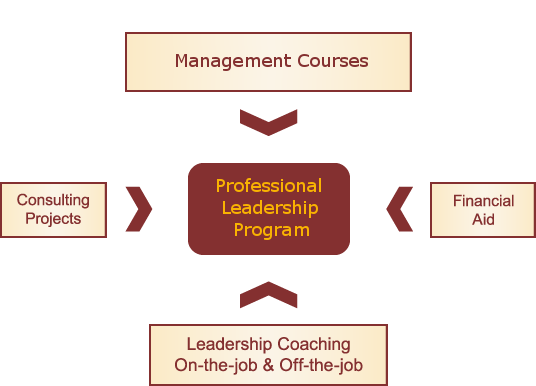 The PLP is an intensive, 24-month, post-graduate program designed to prepare high-potential graduates from top universities and professionals for high-level positions in the European industry and service sectors. ZEBS PLP courses are taught by world class professors, consultants and senior managers from major corporations.
A major component of the program involves several real-world consulting projects that are sponsored by corporations. These projects allow students to apply newly acquired skills and knowledge in the workplace, and aim to prepare them for managerial positions. This program also provides firms with the opportunity to develop future managers.
The international nature of the lecturers and student body provides fellows with the opportunity to work together and exchange knowledge with skilled people from other countries and cultures, also enabling them to broaden their cross communication skills.
ZEBS is extremely selective, accepting maximum 8-10 candidates per year for the Professional Leadership Program. Candidates complete a challenging 24-month training and educational program with the objective of becoming high potential managers and outstanding business leaders. The best candidates do not only have the desire to positively impact business society, but to also create broad-based prosperity around the world.
All fellows are supervised by mentors throughout the program, and are strongly supported by the entire network of ZEBS. Upon completion of the Professional Leadership Program, students receive a Management Certificate of Completion of the international Professional Leadership Program.
The primary objective of the Professional Leadership Program is to match high-potential candidates with full-time positions upon completion of the program.
There is one main difference between the ZEBS PLP-Professional Leadership Program and other management programs. Currently business schools around the world focus on off-the-job management seminars which transfer business-linked knowledge through theoretical courses and case studies. Business schools thus limit their responsibility to the theory processed during the seminars.
Quite contrary to this approach, the Zurich Elite Business School actively broadens its scope of assistance to the students. Through the PLP-Professional Leadership Program not only does the school consider itself responsible for a top-level off-the-job management education, but it also provides consistent support for the development of students on-the-job in real corporate life: Coaches with an extensive professional and personal profile accompany students during their time as a ZEBS-PLP student. They not only give advice on hard business situations, but they also share insights into the personal thoughts, emotions and tensions which corporate life is prone to evoke.